Engineering Department
Quality Control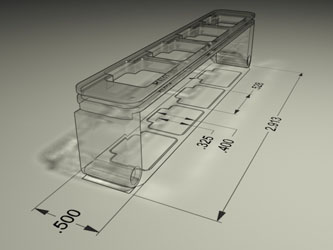 We follow procedures that are found in our quality manual. You can request a copy of our quality manual.
Measuring Equipment
We use the following equipment to make sure our parts are made to perfection:
Calipers
MicroVu Optical Comparitor
Other precision measuring devices
Our equipment are inspected frequently. All equipment is up-to-date and in working order at all times to ensure that parts are measured correctly.
First Article Inspections
We perform First Article inspections to keep record of the products manufactured and quality control requirements. Please ask us about first article inspections in your order.
Certificate of Conformance
We perform certificate of conformance inspections to confirm quality control requirements such as dimensions, artwork, country of origin and plating. The certificate is to assest that items listed are satisfactorily inspected and tested to current internal procedures specifed for the product, and that records of such activity are on file at facility for in plant review upon request. Please ask us about certificate of conformance in your order.
---
Software

We use a large variety of software at Gompf Brackets to accomplish our tasks. They all help in the development and manufacturing of the products that we produce. Here is a list of some of the software we use...

Adobe Creative Suite 4.0
Autodesk Inventor 2013
Autodesk Autocad 2013
Autodesk 3ds Max 2013
NC Polaris 2013
Surfcam Velocity 6
SigmaNEST version 9.0
PEPS CAD/CAM 7.0
Gerber Omega 4.0
---
Production

Quality Control Sheets

We produce each order with a QC print so that your products come shipped to you with no errors or mistakes. With these we can follow each production with a guarantee that the products are within tolerance from the beginning to the end.

Line-Based Work Tickets

This paper work follows the products throughout production to keep everything on-time and up-to-date. The paper work includes customer name, part number, date needed, quantity, and instructions. All of this and more keeps it all in schedule so that we will not lose or miss a process.